HIGH PRECISION ER STEEL SEALED COOLANT COLLET
| | | | |
| --- | --- | --- | --- |
| STEEL SEALED COOLANT COLLET | ER25 | MATERIAL | SUJ2 |
| CLAMPING RANGE | 12MM | HARDNESS | HRC45 |
| RUN OUT (TIR) | 0.0005″ | SIZE | 1.02X1.33 |
| BRAND | iCarbide USA | TAPER | 16° |

Use: For all DIN6499 standard tool holder in ER25 steel sealed collets
Finishing & Rough Cutting:  High precision run out saving your cost-effective
Precision: High Precision Runout: TIR 10μm or 0.0005″
Hardened:Outside: HRC48  Inside: HRC32    
 Drawings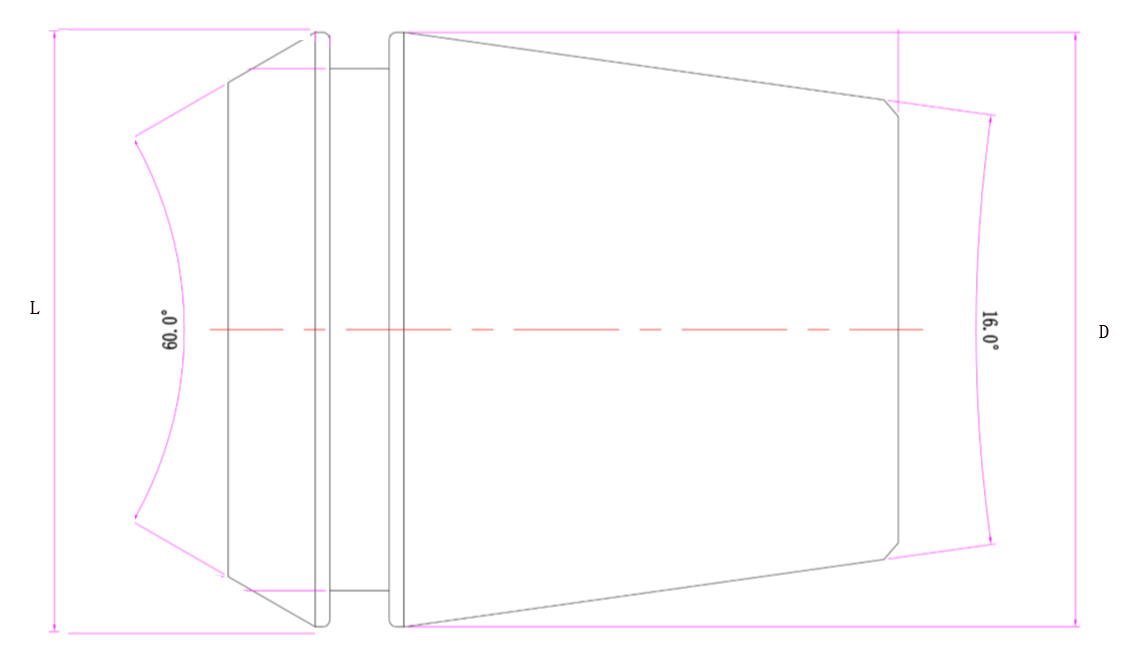 Related ER Collets
| Order NO | D | L | Clamping Ф mm | Run Out | Slot | Price |
| --- | --- | --- | --- | --- | --- | --- |
| ICER1101 | 11.5 | 18 | 1 | ≤ 10μm | 16 | 9.99 |
| ICER1102 | 11.5 | 18 | 1.5 | ≤ 10μm | 16 | 9.99 |
| ICER1103 | 11.5 | 18 | 2 | ≤ 10μm | 16 | 7.99 |
| ICER1104 | 11.5 | 18 | 2.5 | ≤ 5μm | 16 | 7.99 |
| ICER1105 | 11.5 | 18 | 3 | ≤ 5μm | 16 | 7.99 |
| ICER1106 | 11.5 | 18 | 3.5 | ≤ 5μm | 16 | 7.99 |
| ICER1107 | 11.5 | 18 | 4 | ≤ 5μm | 16 | 7.99 |
| ICER1108 | 11.5 | 18 | 4.5 | ≤ 5μm | 16 | 7.99 |
| ICER1109 | 11.5 | 18 | 5 | ≤ 5μm | 16 | 7.99 |
| ICER1110 | 11.5 | 18 | 5.5 | ≤ 5μm | 16 | 7.99 |
| ICER1111 | 11.5 | 18 | 6 | ≤ 5μm | 16 | 7.99 |
| ICER1112 | 11.5 | 18 | 6.5 | ≤ 5μm | 16 | 7.99 |
| ICER1113 | 11.5 | 18 | 7 | ≤ 5μm | 16 | 7.99 |
| ICER1601 | 17 | 27.5 | 1 | ≤ 10μm | 16 | 9.99 |
| ICER1602 | 17 | 27.5 | 2 | ≤ 5μm | 16 | 9.99 |
| ICER1603 | 17 | 27.5 | 3 | ≤ 5μm | 16 | 6.99 |
| ICER1604 | 17 | 27.5 | 4 | ≤ 5μm | 16 | 6.99 |
| ICER1605 | 17 | 27.5 | 5 | ≤ 5μm | 16 | 6.99 |
| ICER1606 | 17 | 27.5 | 6 | ≤ 5μm | 16 | 6.99 |
| ICER1607 | 17 | 27.5 | 7 | ≤ 5μm | 16 | 6.99 |
| ICER1608 | 17 | 27.5 | 8 | ≤ 5μm | 16 | 6.99 |
| ICER1609 | 17 | 27.5 | 9 | ≤ 5μm | 16 | 6.99 |
| ICER1610 | 17 | 27.5 | 10 | ≤ 5μm | 16 | 6.99 |
| ICER2001 | 21 | 31.5 | 1 | ≤ 10μm | 16 | 9.99 |
| ICER2002 | 21 | 31.5 | 2 | ≤ 10μm | 16 | 9.99 |
| ICER2003 | 21 | 31.5 | 3 | ≤ 5μm | 16 | 6.99 |
| ICER2004 | 21 | 31.5 | 4 | ≤ 5μm | 16 | 6.99 |
| ICER2005 | 21 | 31.5 | 5 | ≤ 5μm | 16 | 6.99 |
| ICER2006 | 21 | 31.5 | 6 | ≤ 5μm | 16 | 6.99 |
| ICER2007 | 21 | 31.5 | 7 | ≤ 5μm | 16 | 6.99 |
| ICER2008 | 21 | 31.5 | 8 | ≤ 5μm | 16 | 6.99 |
| ICER2009 | 21 | 31.5 | 9 | ≤ 5μm | 16 | 6.99 |
| ICER2010 | 21 | 31.5 | 10 | ≤ 5μm | 16 | 6.99 |
| ICER2011 | 21 | 31.5 | 11 | ≤ 5μm | 16 | 6.99 |
| ICER2012 | 21 | 31.5 | 12 | ≤ 5μm | 16 | 6.99 |
| ICER2013 | 21 | 31.5 | 13 | ≤ 5μm | 16 | 6.99 |
| ICER2501 | 26 | 34 | 1 | ≤ 5μm | 16 | 12.99 |
| ICER2502 | 26 | 34 | 2 | ≤ 5μm | 16 | 12.99 |
| ICER2503 | 26 | 34 | 3 | ≤ 5μm | 16 | 8.99 |
| ICER2504 | 26 | 34 | 4 | ≤ 5μm | 16 | 8.99 |
| ICER2505 | 26 | 34 | 5 | ≤ 5μm | 16 | 8.99 |
| ICER2506 | 26 | 34 | 6 | ≤ 5μm | 16 | 8.99 |
| ICER2507 | 26 | 34 | 7 | ≤ 5μm | 16 | 8.99 |
| ICER2508 | 26 | 34 | 8 | ≤ 5μm | 16 | 8.99 |
| ICER2509 | 26 | 34 | 9 | ≤ 5μm | 16 | 8.99 |
| ICER2510 | 26 | 34 | 10 | ≤ 5μm | 16 | 8.99 |
| ICER2511 | 26 | 34 | 11 | ≤ 5μm | 16 | 8.99 |
| ICER2512 | 26 | 34 | 12 | ≤ 5μm | 16 | 8.99 |
| ICER2513 | 26 | 34 | 13 | ≤ 5μm | 16 | 8.99 |
| ICER2514 | 26 | 34 | 14 | ≤ 5μm | 16 | 8.99 |
| ICER2515 | 26 | 34 | 15 | ≤ 5μm | 16 | 8.99 |
| ICER2516 | 26 | 34 | 16 | ≤ 5μm | 16 | 8.99 |
| ICER3201 | 33 | 40 | 2 | ≤ 5μm | 16 | 13.99 |
| ICER3202 | 33 | 40 | 3 | ≤ 5μm | 16 | 13.99 |
| ICER3203 | 33 | 40 | 4 | ≤ 5μm | 16 | 9.99 |
| ICER3204 | 33 | 40 | 5 | ≤ 5μm | 16 | 9.99 |
| ICER3205 | 33 | 40 | 6 | ≤ 5μm | 16 | 9.99 |
| ICER3206 | 33 | 40 | 7 | ≤ 5μm | 16 | 9.99 |
| ICER3207 | 33 | 40 | 8 | ≤ 5μm | 16 | 9.99 |
| ICER3208 | 33 | 40 | 9 | ≤ 5μm | 16 | 9.99 |
| ICER3209 | 33 | 40 | 10 | ≤ 5μm | 16 | 9.99 |
| ICER3210 | 33 | 40 | 11 | ≤ 5μm | 16 | 9.99 |
| ICER3211 | 33 | 40 | 12 | ≤ 5μm | 16 | 9.99 |
| ICER3212 | 33 | 40 | 13 | ≤ 5μm | 16 | 9.99 |
| ICER3213 | 33 | 40 | 14 | ≤ 5μm | 16 | 9.99 |
| ICER3214 | 33 | 40 | 15 | ≤ 5μm | 16 | 9.99 |
| ICER3215 | 33 | 40 | 16 | ≤ 5μm | 16 | 9.99 |
| ICER3216 | 33 | 40 | 17 | ≤ 5μm | 16 | 9.99 |
| ICER3217 | 33 | 40 | 18 | ≤ 5μm | 16 | 9.99 |
| ICER3218 | 33 | 40 | 19 | ≤ 5μm | 16 | 9.99 |
| ICER3219 | 33 | 40 | 20 | ≤ 5μm | 16 | 9.99 |
| ICER4001 | 41 | 46 | 3 | ≤ 5μm | 16 | 14.99 |
| ICER4002 | 41 | 46 | 4 | ≤ 5μm | 16 | 14.99 |
| ICER4003 | 41 | 46 | 5 | ≤ 5μm | 16 | 14.99 |
| ICER4004 | 41 | 46 | 6 | ≤ 5μm | 16 | 14.99 |
| ICER4005 | 41 | 46 | 7 | ≤ 5μm | 16 | 14.99 |
| ICER4006 | 41 | 46 | 8 | ≤ 5μm | 16 | 14.99 |
| ICER4007 | 41 | 46 | 9 | ≤ 5μm | 16 | 14.99 |
| ICER4008 | 41 | 46 | 10 | ≤ 5μm | 16 | 14.99 |
| ICER4009 | 41 | 46 | 11 | ≤ 5μm | 16 | 14.99 |
| ICER4010 | 41 | 46 | 12 | ≤ 5μm | 16 | 14.99 |
| ICER4011 | 41 | 46 | 13 | ≤ 5μm | 16 | 14.99 |
| ICER4012 | 41 | 46 | 14 | ≤ 5μm | 16 | 14.99 |
| ICER4013 | 41 | 46 | 15 | ≤ 5μm | 16 | 14.99 |
| ICER4014 | 41 | 46 | 16 | ≤ 5μm | 16 | 14.99 |
| ICER4015 | 41 | 46 | 17 | ≤ 5μm | 16 | 14.99 |
| ICER4016 | 41 | 46 | 18 | ≤ 5μm | 16 | 14.99 |
| ICER4017 | 41 | 46 | 19 | ≤ 5μm | 16 | 14.99 |
| ICER4018 | 41 | 46 | 20 | ≤ 5μm | 16 | 14.99 |
| ICER4019 | 41 | 46 | 21 | ≤ 5μm | 16 | 14.99 |
| ICER4020 | 41 | 46 | 22 | ≤ 5μm | 16 | 14.99 |
| ICER4021 | 41 | 46 | 23 | ≤ 5μm | 16 | 14.99 |
| ICER4022 | 41 | 46 | 24 | ≤ 5μm | 16 | 14.99 |
| ICER4023 | 41 | 46 | 25 | ≤ 5μm | 16 | 14.99 |
| ICER4024 | 41 | 46 | 26 | ≤ 5μm | 16 | 14.99 |
| | | | | | | |
| | | | | | | |
Quality  
100%  quality control, We checked er collet one by one , Er collet >hardness >size>material >run out >lable >packing
We have cnc collet size include er8,er11,er16,er20,er25 ,er32 ,er40 and er50 mill collet. we would also provide er collet sets available .
Another collet available in R8 collet, OZ Collets, straight collets, milling collets,sk10 collet,sk16 collet, SLC collets, and TG collets
We accept OEM order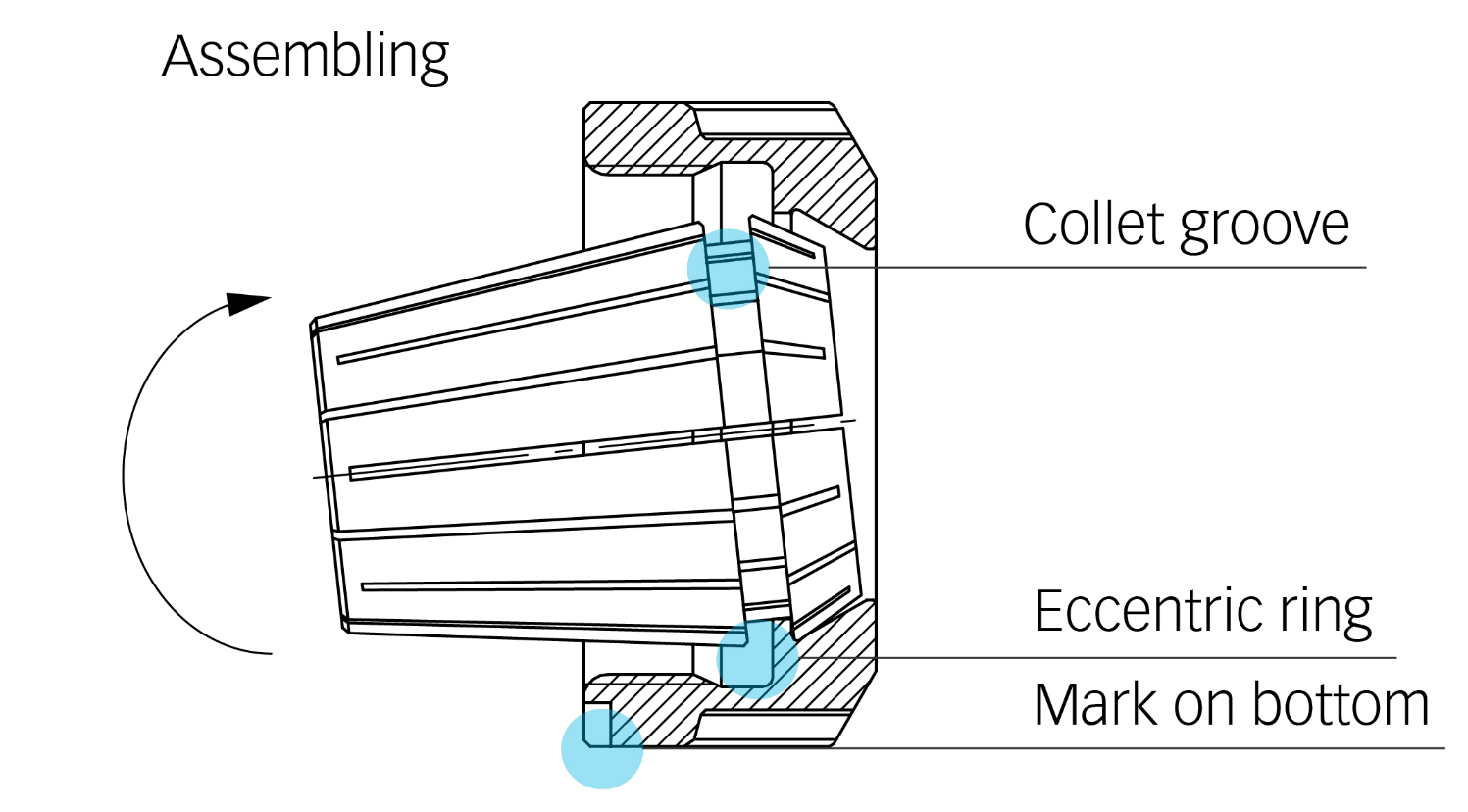 Material Application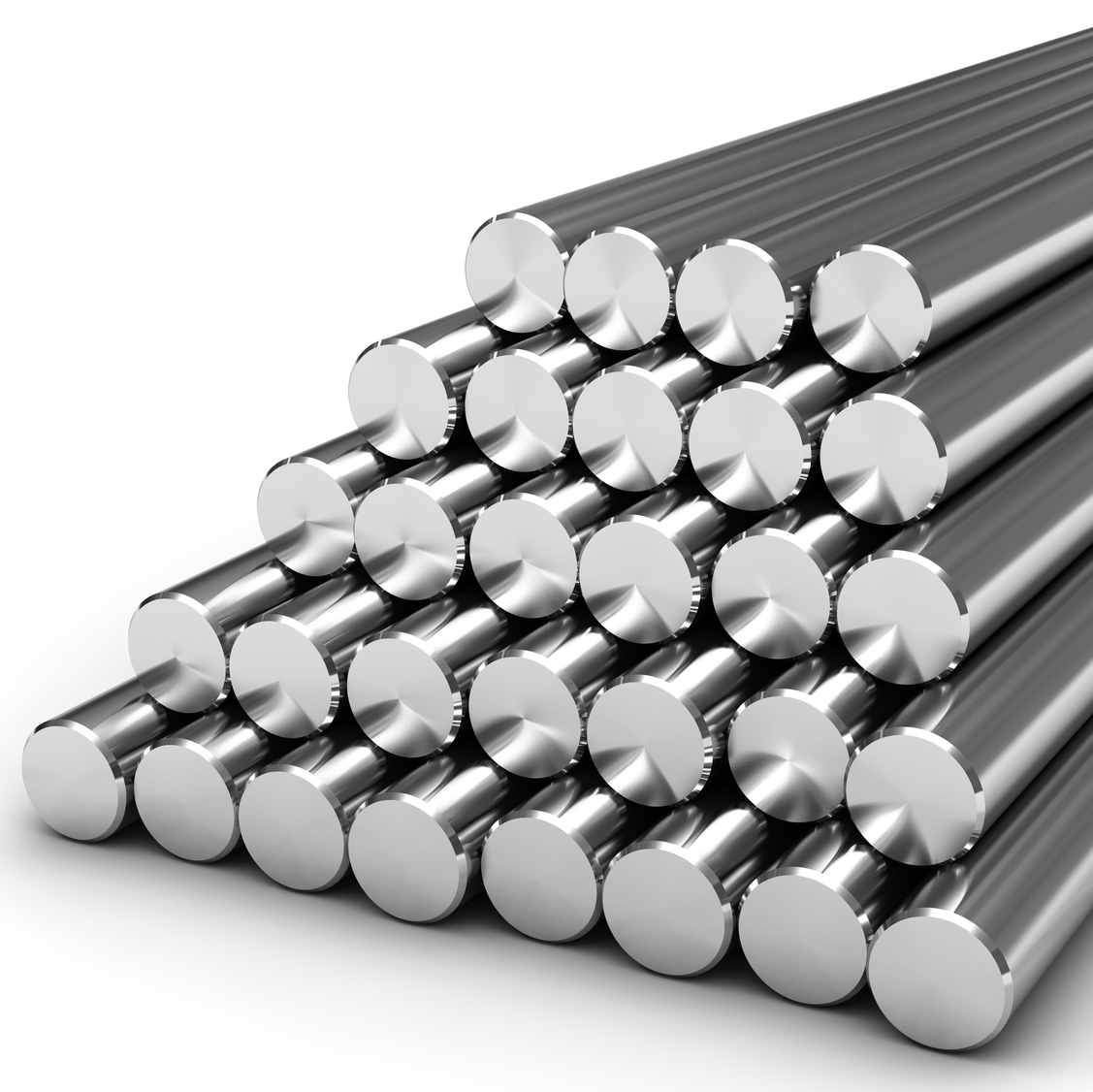 Japanese JIS standard SUJ2 high carbon chromium bearing steel, corresponding to the national standard GCr15, SUJ2 high carbon chromium bearing steel, can be fully hardened, the hardness can reach HRC58-61, has the wear resistance of the bearing, also strengthens the rigidity, workability Good, and can be directly processed and shaped, using mold times 2-3 times higher than SKD-61 (HRC52) full hardware. During quenching and tempering, the size does not change much, and fatigue resistance is quite good.
E. Send Inquiry to Us for free
We will, as always, send samples to the consulting clients to ensure high-quality performance and reasonable prices. We focus on CNC Cutting tools & Tool System etc, provide the best tool for clients of different types of operations.
Please no, hesitate to send an inquiry to us at alex@icarbide.com